Get the COVID-19 care you need.
---
Feeling ill? Follow these steps:
CALL YOUR DOCTOR
---
Be sure to call first; do not go straight to the office, urgent care or ER. Your doctor will assess your symptoms and tell you what to do next.
LET US HELP
---
Need help choosing a doctor or scheduling a ride? Here's how to reach us:
Individual & Family 855-521-9342
Medicare Advantage 844-253-3028
Click here to find a doctor:
GET A FREE ASSESSMENT
---
Doctor On Demand is providing free, personalized COVID-19 assessments. All COVID-19 screenings and tests are free for Bright Health members.

Bright Health and COVID-19
Coronavirus Disease 2019 (COVID-19) is all over the news and on everyone's minds. We at Bright Health want you to know that we are staying current and keeping your health as our top priority. Education, prevention, and proper care are the best lines of defense. We're responding quickly with important updates to your coverage so you can feel informed and prepared to deal with COVID-19.
Updates to your Coverage
As part of our efforts to help prevent the spread of COVID-19, we've made some changes to your coverage.
Changes are in effect, covering services beginning 3/1/2020, until further notice.
No-cost, COVID-19 diagnostic testing
If you have symptoms, COVID-19 diagnostic testing and associated office visits are now covered as preventive care, at no cost to our members, regardless of network. Testing for other purposes, such as return to work or checking one's own antibody levels will not be covered. Please note, mail-order and over-the-counter COVID-19 diagnostic tests do not qualify for reimbursement.
Early medication refills
Individual and Family Plan members: Individual and Family Plan members may request early refills in locations where a state of emergency is issued.
Medicare Advantage members: Bright Health has authorized early medication refills for Medicare Advantage members as directed by Center of Medicare & Medicaid Services (CMS).
To get your medication refilled early, contact your pharmacist.
Transportation
We are making non-emergency transportation available to all members. We are also waiving ride limits for non-emergency visits to and from your doctor.
Telehealth
All telehealth services (online and virtual care) obtained in connection with doctor-ordered COVID-19 testing and diagnosis are now covered, at no cost to our members.
If you choose to use a telehealth provider other than Doctor On Demand you may be required to pay upfront and submit a claim to be reimbursed by Bright Health. The reimbursement forms are located here for: Individual and Family or Medicare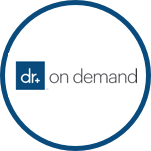 Get virtual care now.
All COVID-19 screenings and diagnostics are free for Bright Health members.
Start virtual visit
Important Bright Health COVID-19 Benefits update (Providers)
Please view our updated COVID-19 Billing Codes in the Payor Spaces area for Bright Health within Availity.com
We're always happy to help answer coverage questions, help you find a doctor, and more.
---
Contact your primary care provider or find a new one.
Frequently Asked Questions:
First, make sure you are getting your facts from a trusted source. The CDC and your local health authorities are the best places to go for the most accurate, up-to-date information. Here are some resources we think you'll find valuable:
CDC Resources
State or city hotline number
Call 411 or check online to find out if your state or city department of health has an information hotline number.
Visit your local hospital's website
Always call your doctor before going to the doctor's office. Call an urgent care or hospital if you can't reach your doctor.
The virus is thought to be spread mainly from person to person through close contact (about 6 feet or less). The most likely way to get sick is to come into contact with the respiratory droplets from an infected person that they produce when they talk, sneeze, or cough. COVID-19 is also present in their stools.
However, it's possible to get infected through handshakes or contact with infected surfaces or objects. Most common surfaces include counters, tabletops, doorknobs, toilets, phones, keyboards, keys, light switches, etc.
As with other infectious conditions, these prevention basics are your best defense:
Wash your hands often, with soap and water, for at least 20 seconds (sing Happy Birthday twice)

After blowing your nose, coughing, or sneezing

Before eating

After going to the bathroom

Before touching your face

Any time your hands are dirty

Use hand sanitizer with at least 60% alcohol content when soap and water are not available.

Always wash with soap and water when your hands are dirty

Avoid touching mouth, eyes, and nose with unwashed hands

Avoid contact with sick people

Stay home if you feel sick

Cover your coughs and sneezes with a tissue, then throw the tissue in the trash

Cough and sneeze into your elbow if you don't have a tissue on hand, then wash your clothes as soon as possible

Clean and sanitize objects and surfaces you frequently touch, using regular household cleaning sprays or wipes

Avoid large crowds and events as much as possible
COVID-19 can feel a lot like a cold or the flu. In fact, the Coronavirus is a class of viruses best known for causing the common cold. The main symptoms are:
Fever

Cough

Shortness of breath
Less common symptoms include a sore throat, runny nose, and headache.
If you're concerned about your symptoms, call your doctor before going into the office. They are trained to ask the right questions and give you the best advice about any needed precautions or instructions. Be sure to mention:
Recent travel, especially out of the country

Possible contact with an infected person

Your symptoms
If you can't reach your doctor, call an urgent care or hospital before visiting. If you're directed to the emergency room, call them for any special instructions before you leave.
If you go to your doctor for any reason, even if you do not believe you're at risk for COVID-19, call your doctor before going into the office. They may need to make special arrangements to protect other patients.
Ask your doctor or hospital if they offer virtual or online visits (telehealth) for flu symptom or COVID-19 evaluation and treatment, or click here to be connected with Doctor On Demand.
There is a test available for patients who may have COVID-19. Test supplies are limited. A healthcare professional will determine if you should be tested. Your doctor is your best resource, but urgent care centers, hospitals, and emergency rooms have access to the test, too.
Drive-through testing, which currently still requires a doctor's order, is gradually becoming available in certain communities.
For more information about testing, contact your state health department or call a local COVID-19 hotline.
It is now recommended that the general public use nonmedical, cloth face coverings to help prevent the spread of infection. This is especially important if you have even mild symptoms of cold or flu, which may be caused by coronavirus. The cloth face coverings recommended are not surgical masks or N-95 respirators. Those are critical supplies that must continue to be reserved for healthcare workers and other medical first responders. Face coverings do not replace the need for social distancing.
We hope this information has helped you feel more prepared to understand, prevent, and deal with COVID-19. After all, we're in this together.
Contact Us
We're always happy to help answer coverage questions, help you find a doctor, and more. Contact us here.
Member Services: Contact Us